NEN 4400-1 certificering opnieuw verlengt
Deze week heeft A1 Werkplan een SNA audit gehad voor de NEN 4400-1 certificering. Met trots kunnen wij vertellen dat de audit goed is verlopen en dat wij ons NEN certificaat weer kunnen verlengen.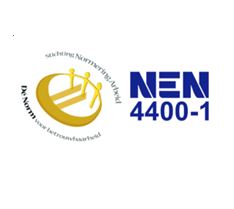 Het SNA-keurmerk is het keurmerk voor de uitzendsector en aannemers van werk en is ontwikkeld om de risico's van inleners van arbeid en opdrachtgevers van werk te beperken. Op basis van de huidige wetgeving lopen deze partijen het risico dat zij aansprakelijk worden gesteld voor verplichtingen uit arbeid die door de uitlener of (onder)aannemer niet zijn voldaan. Bedrijven met het SNA-keurmerk worden periodiek gecontroleerd op hun verplichtingen uit arbeid, waardoor het risico voor de inlener en uitbesteder van werk wordt beperkt.
De ondernemingen met een SNA-keurmerk worden beoordeeld op hun verplichtingen uit arbeid, te weten:
-De identificatie van de onderneming;
-De aangifte en afdracht van (in Nederland) verschuldigde loonheffingen en omzetbelasting;
-Loonbetaling niet in strijd met de Wet minimumloon en minimum vakantiebijslag;
-Het uitvoeren van identiteitscontrole en controle op het gerechtigd zijn tot het verrichten van arbeid in Nederland;
-Het voorkomen van risico's op aansprakelijkstelling en boetes voortvloeiend uit in- en doorlenen of uitbesteden van werk.
https://www.a1werkplan.nl/certificering
2022-11-22 - a1werkplan